TOP Keratin Hair Masks. What to Choose for Treating Damaged Hair?
Is your hair frizzy and splitting? Is it dull-looking, tangled and brittle? It's highly likely your hair is highly-porous. Don't worry, though! With a good mask, you can repair it, make it look better and keep it safe from further damage.
Girls often think that damaged hair is like the end of the world. They believe that there's nothing to be done and having a haircut is the only remedy. This is a mistake. Of course you can fix damaged hair! You just need to follow the correct hair care based on a couple of basic elements.
How to care for damaged hair?
Damaged hair is always dry so it needs constant hydration of inner structures and anti-moisture-loss protection.
Protein-rich structure-rebuilding products make up the base of hair care if your tresses are brittle and split-prone.
Weak hair must be also protected from damage by using anti-UV, heat and pollution protection.
Masks for highly-porous hair
Using protein masks makes a very good pick for highly-porous hair. A good mask for damaged hair is able to reconstruct and strengthen the tresses. How? It easily penetrates the hair and rebuilds the part of weak hair structure. Choosing the best mask is the key to success.
The best hair mask for highly-porous hair must be rich in keratin. Just one ingredient is able to work wonders and strengthen the hair because the keratin scales make up the hair. Keratin is a natural hair-building block so it is automatically the best thing you can treat your tresses to. You just need to choose a hair mask featuring a proper amount of fine-quality keratin.
TOP KERATIN HAIR MASKS
See the best keratin-spiked masks for damaged hair. The products that will turn your unsuccessful attempts to save the hair into conscious, effective repair therapy. Take a look at the keratin masks worth your money!
[1] NANOIL KERATIN HAIR MASK
Volume: 300 ml
Price: $15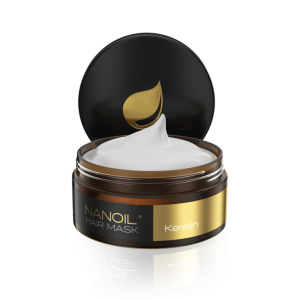 More information: nanoil.us
The best mask for treating damaged hair that you can use at home. This lightweight, non-overburdening mask leaves a lovely, fresh aroma on your tresses. The secret of the wonderful effect of the Nanoil Keratin Hair Mask lies in the formula: it contains hydrolyzed keratin particles, which are the strongest proteins, and beneficial provitamin B5. Thanks to the components, the mask strengthens and repairs the hair from the roots to the ends. After just one use, hair is easier to brush, smoother and more resilient, manageable, glossier and the frizz is reduced. You deserve this super-repair treatment! And you get it at the competitive price, in a big jar, delivered to your doorstep. Thousands of women who've picked the Nanoil Mask can't be wrong – the reviews they share clearly show that it's the number-one repair mask.
[2] KÉRASTASE RÉSISTANCE MASQUE FORCE ARCHITECTE
Volume: 200 ml
Price: $56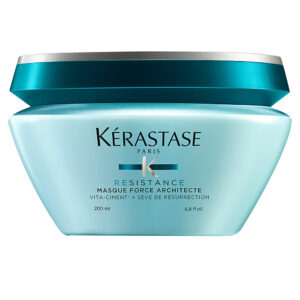 Kerastase Résistance Force Architecte is another keratin-enriched thing made for treating damaged hair. The green jar doesn't make the mask stand out but then you look at the price… You pay big bucks for a smaller-sized container, and you can't be sure it's enough to remedy the tresses. This is surely a good choice for highly-porous hair but it's not the best one. It takes too long to give the effect, nourishing, moisturizing and strengthening the tresses. Interestingly, it doesn't contain typical keratin but keratin-imitating ceramides.
[3] PHYTO PHYTOKÉRATINE EXTRÊME EXCEPTIONAL MASK
Volume: 200 ml
Price: $59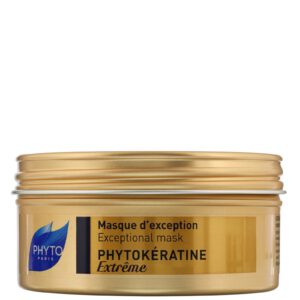 If you like to overspend, you may try the hair-repair mask from Phyto. This formula suits any hair but it works best on dry, damaged, brittle tresses. Among others it contains peony extract, sapote butter, plant-derived keratin and baobab oil that together work to reinforce weak tresses and make them damage-proof. The use of hair-rebuilding plant extracts is a revolutionary thing about this formula. Still, this blend of ingredients doesn't prove effective for all users. The lightweight consistency and easy application are surely the benefits.
[4] WELLA SP LUXE OIL KERATIN RESTORE MASK
Volume: 400 ml
Price: $37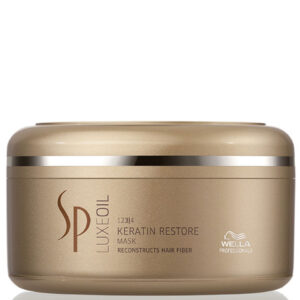 Wella Professional SP Luxe Oil Keratin Restore Mask also deserves to be listed among the most popular keratin hair masks. The formula is based on three oils (argan, jojoba, almond) and enriched with a small amount of hair-enhancing keratin. It's designed for damaged hair but can be used on any tresses. The mask hydrates, nourishes and improves the appearance of hair by leaving it shiny and frizz-free. Note: it gives the best results when paired with the Wella Keratin Protect Shampoo.
[5] LANZA KERATIN HEALING OIL INTENSIVE HAIR MASQUE
Volume: 210 ml
Price: $46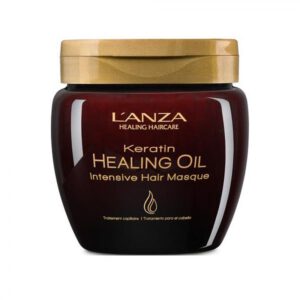 If you're a damaged-hair sufferer, you can also test a less popular product known as Lanza Keratin Healing Oil. The manufacturer promises that this deeply-penetrating mask nourishes from within, repairs and restores vitality. The formula is based on oils and keratin but we wish their concentration was higher. On the one hand, it's a bad thing because the effect isn't intensive but, on the other hand, it's a good thing because the mask can be used on any hair type without worrying about the protein overload.
[6] L'BIOTICA INTENSIVE REPAIR KERATIN MASK
Volume: 200 ml
Price: $12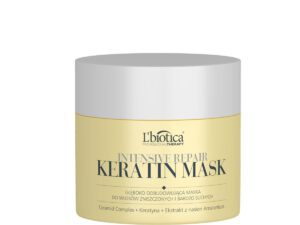 The L'Biotica Keratin Mask is one of the cheapest picks we share. This is a good choice if you don't have high expectations and an affordable price is more important than the ingredients in the mask. Unfortunately the low price is connected with a small amount of keratin which fails to penetrate the hair as much as other types do. The formula is enriched with amaranth extract and ceramide complex so the effect after first use is nice: the mask makes hair smoother, softer and shinier.
[7] KALLOS KERATIN HAIR MASK
Volume: 1000 ml
Price: $11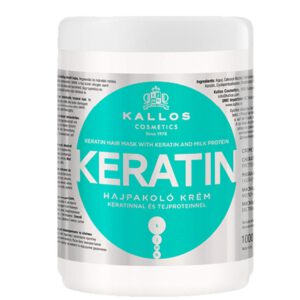 It's surely one of the most famous keratin hair masks, loved for the super size, low price and lovely aroma. Despite that, you must realize that super-cheap products contain scant amounts of keratin. This mask has a nice smoothing effect because of silicones but it's not going to repair the hair like previous products even if you use it regularly. Still, if softness, subtle shine boost and protective shield is what you're seeking, then even the Kallos Keratin Mask may be an ally when fighting for stunning hair.